How We Began
FaithLife Ministries was founded by Barry Voss & Kim Star-Voss in 2001 as a ministry to train and equip Christian leaders in the mission field.
In 1996, Barry first heard the call to go to the mission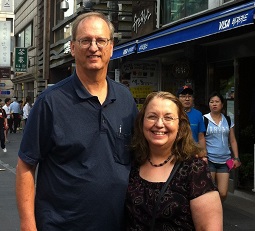 field. On that mission trip to Kazakhstan, he sensed God's call on his life to serve Him in a mission field ministry. He continued to respond to that call by going on several more mission trips to teach and minister in 1997. In 1998 he felt God's call to organize and lead mission trips, and so he recruited and led teams to Peru in 1999 & 2000 through Missions International, a Nashville based mission agency. In 2001, God led Barry and Kim to decide to incorporate in order to lead mission teams on their own, and so FaithLife Ministries was born. They led their first mission trip to the Philippines in May of that year. On that trip Barry taught a workshop on Church Administration.  Our Philippines host invited Barry to come back the following year and teach on that topic for an entire week at their Bible School.  As a result, Barry developed the Management For Church Leaders™ training course.  Since then this ministry has continued to grow as God has led us to more mission field contacts and opened up more opportunities for us to train and equip the leaders of His church.
In 2005, Barry was called to work full-time in this ministry. His focus is on church leadership and management training.  Kim has developed a series of Children's Ministry Books that are available through this website and joins Barry to teach on leadership and management occasionally. The Lord has continued to affirm our teaching and has led us to seek more opportunities and foreign trainers.
>Read Barry's personal faith testimony
>Prophecy spoken over Barry in 1999
>Get Barry's book – Transformed: Learning to Live by Faith
>Get copies of Kim's Children's Ministry Books
>Our Mission, Vision & Strategy