Developing Teams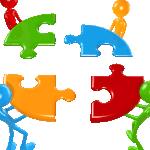 "Two are better than one, because they have a good return for their work. If one falls down, his friend can help him up. But pity the man who falls and has no one to help him up! Also, if two lie down together, they will keep warm. But how can one keep warm alone? Though one may be overpowered, two can defend themselves. A cord of three strands is not quickly broken."
Ecclesiastes 4:9-12
Since the church is made up of people, and ministry is done through people, it is important for a leader to encourage people to work together towards common goals. Building teamwork among church members is vital in order to accomplish the goals and vision of the church. When people work together, they share ideas, they share the workload, and they share their gifts and talents – all for the glory of God! An effective leader encourages people to work together and creates an environment where teams can flourish. As a church grows, teams will become more important to accomplishing many of the goals and projects it is pursuing.
There are several reasons why leaders should develop teams in their churches or ministries. First of all, Jesus himself built teams.  He gathered his twelve disciples as a team and even sent them out two by two to do ministry.  Jesus rarely did anything by himself, other than pray. Secondly, it is a good way to distribute the workload. Leaders cannot do all of the work themselves, nor should they. By building teams leaders can involve more people in ministry and enable more ministry to be accomplished. Third, teamwork allows for the collaboration of ideas and greater creativity as different people have different gifts and passions they bring to the group. It also helps develop relationships among team members and builds community. Finally, it will enable the ministry to develop new leaders because leaders often emerge from working in teams.
Teams have several purposes within a church or ministry as well.  They can be used to plan projects or large ministry programs, such as VBS or community outreaches. They are often used to create church budgets, make staff additions, or develop new ministry strategies.  Teams can also be an effective way to solve church problems or research new ministry opportunities, such as schools or child care centers. Teams are most often used in churches to oversee ministries, such as church boards, or to provide support and assistance to pastors and other church leaders.
When using teams, it is important for leaders to do the following:
1. Determine the focus and purpose of each team.  Each team needs a clear vision and plan for their activities.
2. Designate a team leader or have the team choose its own leader.  Every team must have a strong leader.  The success of the team will depend upon it.
3. Encourage team members to participate. Every team member adds value to the team so all must contribute their ideas and skills.
4. Hold teams accountable for results. Leaders must follow up with teams to make sure they are making progress and to show interest in their work.
5. Recognize and reward team success.  Leaders need to encourage and reward effort and accomplishment to reinforce team effectiveness.
6. Attend team meetings occasionally.  Leaders should be available to teams to provide direction, input and encouragement.
For teams to be successful in a church or ministry, leaders must be actively involved in the process. They cannot simply designate teams to do the work that needs to be done and then walk away. They must provide direction, follow up with team leaders, and be available to support and encourage them as needed.  If leaders fail to do this it will inevitably result in poor results, ineffective ministry and a waste of resources. Effective leaders are those who build teams that are focused, that work together, and that share their gifts to the glory of God!