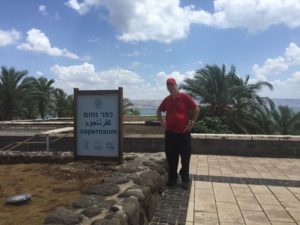 "We live by faith, not by sight." – 1 Corinthians 5:7
I recently had the opportunity to make my first visit to Israel and the Holy Land.  It had long been a goal of mine to get to the Holy Land and to visit the sites where Jesus was born, where he ministered and taught, where he suffered and died on the cross, and where he was raised from the dead. I had envisioned a place where history would come alive right before my eyes and where I would be emotionally moved by what I was seeing. I was anticipating a spiritual experience beyond anything I had ever felt before!
However, as I toured Israel and visited such sites as Bethlehem, Capernaum and Jerusalem, I did not experience what I had anticipated I would. Rather, I was surprised at my lack of an emotional connection to the historical aspects of the Holy Land. I suspect it was because many of the sites did not look anything like what I thought they would. I think that there were several reasons for that.
First, much of what I thought I would see was based on portrayals of the areas in movies. Hollywood tries to recreate the geography and setting but often tends to create movie sets that are more like our preconceived ideas than what actually existed at the time. Second, the Scriptures don't always provide a detailed description of the geography so we each envision or imagine what the area must have looked like in our own minds. That may or may not be accurate. Third, what existed 2,000 years ago is not what we see today.  Areas have been built over and the original locations look vastly different than they might have back when Jesus lived. Finally, tour guides usually tell you one of three things about a particular site – it is believed to be the actual site based on some evidence, it is probably the actual site given what is known about an event, or it may be the actual site but they really have no proof that it is. Very few of the sites I visited have enough solid evidence to prove that's where a specific event took place. So for these reasons the sites that I visited did not meet my expectations of what I thought I would see and therefore it was difficult to make an emotional connection. It's not like going to Pearl Harbor in Hawaii and seeing the USS Arizona still under water where it sank in 1941!
Nevertheless, we do know that Jesus was born in Bethlehem and that city exists today where it was back then. Capernaum, where Jesus ministered and taught a great deal, is also where it was. And Jerusalem too is in the same location and we know that Jesus was judged there, suffered there, crucified there, and was buried there. And while the actual locations of these events in these cities may not be known with absolute certainty, they ARE where these things took place in history. And while I did not connect emotionally with the specific sites I visited as I had expected, I did reflect considerably on their meaning in history. As I visited these places I thought about Jesus, what He did, and what it must have been like back then (according to Scripture), and as a result I felt a deeper spiritual connection with Him!  It was not the sites themselves that impacted me, but rather the realization and consideration of what took place there that did! Visiting the Holy Land most assuredly affirmed my faith and belief in Jesus' life, death and resurrection!
One of the things I did witness quite frequently were the large numbers of people who were visiting these spots and touching them as if the sites themselves could convey a special spiritual power because Jesus had been there. To me, I saw that as idolatry.  We worship a living God, not historical places or relics from the past. Our God lives and reigns in us and through us and we don't need to visit the Holy Land to feel His presence or be filled with the power of His Holy Spirit. That comes from God, and faith in Jesus, and is available to anyone who calls on His name! Focusing on physical things only distracts us from spiritual things.
So, was visiting the Holy Land a disappointment? Was it unnecessary? Was it meaningless? Absolutely not!  As a matter of fact, I would still highly recommend it for every Christian. Being in the Holy Land allows us to consider very deeply what Jesus has done for us. Walking in Jerusalem, Bethlehem and Capernaum enabled me to connect with the Bible and what it says and to reflect on what really matters in life. And that is Faith. Faith does not come from visiting the Holy Land. "Faith comes from hearing the message, and the message is heard through the Word of Christ." – Romans 10:17 But visiting the Holy Land can serve to strengthen our belief in Jesus and what He did for us!
And so I thank God for the opportunity to visit His Holy Land, and for the chance to reflect more deeply on what Jesus did for me and for every human being that has ever lived. History is just history. But faith in Jesus is living and active, and visiting the Holy Land has affirmed and strengthened my faith in Him who alone is God!