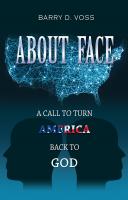 Barry Voss, President of FaithLife Ministries, has written a new book about Christianity and the American culture today.  The book is entitled "About Face: A Call to Turn America Back to God."
In this book Barry discusses how the American culture has changed during his lifetime.  Growing up in the 1960s he saw America start to change its values.  He witnessed America turn away from God over the past fifty years and become more secular. He breaks down the ways this has become evident by looking at how eight different values in our culture have changed. They include the erosion of Biblical influence, sexual idolatry, devaluation of life, coveting wealth, rampant dishonesty, an entitlement mentality, a lack of personal responsibility, and a rise in socialism. He shows how America has lost its respect for the Church, moved away from Christian and Biblical values, and how it now values personal choice above God's Word.
But he also offers a solution and shows how followers of Christ and the Church can lead America back to God.  Although Christians are strangers and aliens in our nation (1 Peter 2:11), we are still called by God to influence our nation and be "salt & light" (Matthew 5) in it.  He provides eight ways Christians can influence our culture by being who we were called to be.  He demonstrates that it is only when Christians focus on being the Church, sharing the gospel, and making disciples of Jesus, that the Holy Spirit can use us to turn our nation back to God.
The book was published by Xulon Press, the largest Christian self publisher and was released on April 9th, 2015.  It is available in a variety of formats.  Please click on any of the links below to purchase a copy.  All proceeds go to FaithLife Ministries to support the mission work that we do.
Paperback:  Xulon Press or Amazon.com or Barnes & Noble
Kindle:  Amazon.com
Nook:  Barnes & Noble
Apple:  iStore
We would certainly welcome your feedback on the book after you have read it.  Please feel free to return to this blog page to post your comments and feedback.