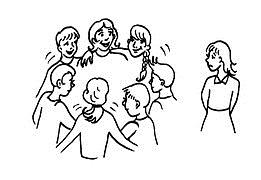 "However, as it is written: No eye has seen, no ear has heard, no mind has conceived what God has prepared for those who love Him."
1 Corinthians 2:9
As we enter into this Christmas season where Christians celebrate the birth of God's Son, Jesus, and the good news of mercy, grace and salvation for ALL of mankind that He brings, I can't help but think about what His life means to me. Christmas is not only a time of joy, giving and celebration, but it is also a time of reflection on what God has given to me and to everyone who would believe in His Son, Jesus. Christmas to me is not about decorated trees, parties and gifts. It is about a time when God entered into our humanity in the form of a baby boy who would grow up to sacrifice His holy and sinless life for yours and mine. God did this solely because He loves us so much (John 3:16)!
Those who do not know God or believe in Him or His Son Jesus therefore miss out on this incredible FREE gift that God offers to every human being. It's like having a multi-million dollar winning lottery ticket in your hand and either not knowing it's a winning ticket or simply refusing to collect on it! Those who reject Christianity, or who attack Christians and our beliefs, are often unaware of what God is really offering them. They only see an institutionalized church, sinful & hypocritical behavior by those who call themselves Christians, or an attitude of condemnation and self-righteousness by Believers. They only see a blank lottery ticket. They desperately need to see God for who He is and not see us for who we are! They need to know that He is their winning ticket!
I would like to share 7 things that I believe non-Christians miss out on by rejecting God's gift of His son Jesus:
Joy – There is a joy in knowing God and Jesus that cannot be explained. It can only be experienced. It is a daily contentment in all that God has done and continues to do in the life of every believer. It is not a temporary happiness but a deeply felt joyfulness!
Confidence – There is a confidence in knowing that God is in control of everything and that His promises to save us, protect us and walk with us every day are assured. Despite anything that happens to us in this life, God is always there to lift us up in our time of need!
Knowledge – God left us His Word and His wisdom to help us navigate this life that we live. Without the knowledge that our Creator provides we turn to our own knowledge and wisdom which is unreliable and often wrong. Trusting in man's wisdom instead of God's wisdom will always leave us worse off.
Perspective – Believing in God and His Word gives us a perspective on our world and our place in it that cannot be found anywhere else. It enables us to see what sin and evil are, how our behavior impacts our lives and those of others, and helps us understand how to relate to others and our world in a positive way.
Fellowship – Belonging to the body of Christ means we will never walk this life alone. As a Christian, we have brothers and sisters all over the world who will pray for us, help us in our time of need, or simply walk beside us in times of trouble. We are part of a larger family that gives us purpose, support, and love.
Power – As Christians, we have the power of the Holy Spirit living in us that is available 24/7. It is the power to overcome, to do the impossible, or to endure the trials that this world has to offer. It is a power like no other. And it costs us nothing while it cost God everything – His only Son Jesus! Faith in Jesus is all we need to gain access to that power!
Love – While most humans experience human love from family and friends, nothing on this earth can compare to the unsurpassing and unconditional love that the Father God has lavished upon us! (1 John 3:1) It is a love that goes to our inmost being and tells us that no matter who we are or what we have done, God loves us with a passion and depth that is beyond our human understanding!
So how can non-Christians experience these 7 incredible blessings that those who follow Christ know, feel, and appreciate? It is only when we share the gospel message of Christ with them (and what Christmas really means) and they allow the Holy Spirit to convict them of the truth of His Word and His Son Jesus! Metaphorically speaking, we need to show them that their lottery ticket is valid, worth millions, and absolutely real!
So this Christmas, let us not just celebrate the birth of our Savior, but let us tell others about the birth of their Savior! "So let us now grow weary of doing good, for at the proper time we will reap a harvest if we do not give up." – Galatians 5:9