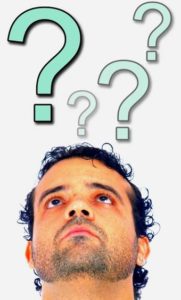 "Stop doubting and believe!"
John 20:27
I have heard some Christians say that they have doubts when it comes to their faith.  They say they don't understand why God does what He does or doesn't do, or that some things from His Word just don't make any sense to them in our world anymore. Some will even argue that since we can never fully know God or fully understand His Word from the Bible that it is alright to have our doubts about them.
But is it OK for Christians to say they have doubts about God, Jesus, or the Bible's truth?
I strongly believe that the answer to that question is NO! The Christian faith is predicated on the existence of God, the resurrection of Jesus Christ, and that the Bible is God's Word and Truth. When a person publicly or privately declares that they acknowledge Jesus Christ as the Son of God and place their trust and faith in Him alone for salvation, they are stating that they believe these things to be true. That's when belief becomes reality and they become a Christian and a follower of Jesus Christ. So a person cannot call themselves a Christian if they are no longer sure who God is, what Jesus did on the cross, or that God's Word is His truth.
We are told by Jesus to believe and have faith.  When the disciples saw Jesus walking on the Sea of Galilee Peter got out of the boat and started walking on the water to him. However, when he took his eyes off of Jesus he began to sink. Jesus reached out his hand and caught him and said to him, "you of little faith, why did you doubt?" (Matthew 14:31)   Jesus also confronted doubt in the person of Thomas, one of his disciples. After Jesus had risen Thomas demanded proof. He said to Thomas when he doubted to "stop doubting and believe" (John 20:27). He went even further by declaring that unlike Thomas and the disciples, "blessed are those who have not seen and yet have believed!" (John 20:29)
So to say as Christians that we have doubts is the same as saying we don't believe anymore. We either believe (and have faith) or we don't.  If we look at a thesaurus we will find that doubt is the opposite of belief. We cannot both believe and doubt the same thing.
I think many Christians who say they have doubts really mean that they don't understand God's Word or His ways and struggle to reconcile that with their daily lives. That's not doubt, that's just our lack of understanding of His Word and His nature because He says "My ways are higher than your ways." (Isaiah 55:9). We don't know what God knows. That's why the Bible says in Proverbs 2:6 that "the Lord gives wisdom, and from His mouth comes knowledge and understanding."  Additionally, Proverbs 3:5 says we should "trust in the Lord with all our heart and lean not on our own understanding."  That means that must put our trust in God and His Word and not doubt Him or His truth.  To doubt Him is to deny Him. Furthermore, James 1:6-8 says that we as Christians must "believe and not doubt, because he who doubts is like a wave of the sea, blown and tossed by the wind. That man should not think he will receive anything from the Lord. He is a double-minded man, unstable in all he does."
The absolute essence of the Christian faith is to wholeheartedly believe and trust in God, His Son, and His Word. That's where the Christian faith begins. We must be confident in these truths and not doubt them!
So let's encourage one another in our faith because there's no doubt about it!